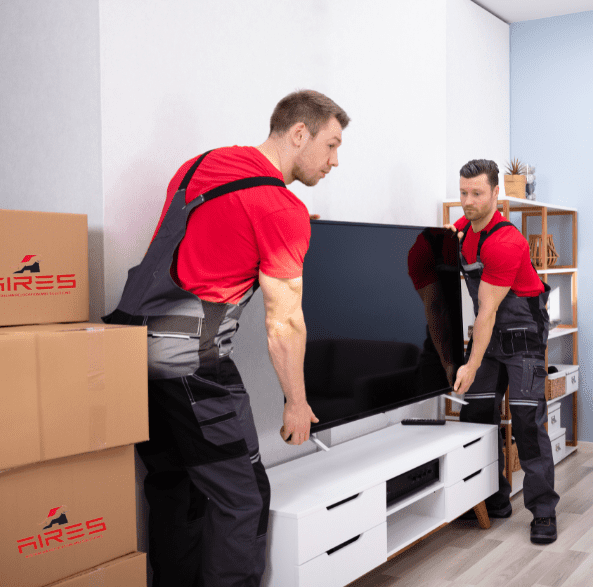 Removalist Frankston
Our removalists decrease pain by completing difficult jobs and calming your thoughts and energy. We give a professional service that can make relocating easier. Our house removal business in your locality will help you move your stuff from your old house to your new one, albeit the precise service provided may vary.
Our removalists business will offer a wide range of services based on your needs and budget. We're going to look at some of the reasons why Aires Relocations is the most well-known removalists Frankston and what you should look for when hiring our removalists in Frankston.
House Removal Services
At Aires Relocations, we understand the emotional and physical stress associated with moving house. Therefore, our comprehensive house removal services are designed to transform your house moving experience into a seamless journey. From securely packing your belongings to ensuring their safe delivery to your new home, our team of experts executes every aspect meticulously to ensure maximum customer satisfaction.
Furniture Removal Services
Aires Relocations prides itself on providing top-tier furniture removal services. With a focus on safe transportation and the utmost care, our experienced professionals handle your precious furniture pieces.
Whether it's about moving a single piece or an entire household of furniture, we have the skills, Equipment, and dedication to accomplish the task precisely.
Office Removal Services
 Office removals are one of our specialties at Aires Relocations. Our office removal services are meticulously planned and executed to minimize downtime and avoid disrupting your business operations. Our Team is experienced in handling everything from office furniture to high-tech Equipment, ensuring that your office move is smooth, efficient, and hassle-free.
Men with Truck Services
 Aires Relocations offers reliable 'men with truck' services for various moving needs. Whether you're shifting a large house, relocating your office, or just need help with a small move, our highly skilled Team and well-equipped trucks are ready to serve you. Our experts will load, transport, and unload your belongings with utmost professionalism and care.
Packing Services
Packing is one of the most critical aspects of moving, and at Aires Relocations, we offer expert packing services for the safety and security of your items. Our trained packing professionals use high-quality materials and proven techniques to ensure your items are well-protected during transportation.
Storage Services
If you need to store your belongings safely and securely, look no further than Aires Relocations. We offer secure, clean, and flexible storage solutions for various needs. Our facilities have state-of-the-art security systems, providing peace of mind whether you require short-term storage or long-term solutions.
OUR MOVING PROCESS
1. Initial Consultation
 The process starts with an initial consultation to understand the scope of the move. We will assess your requirements, the volume of moving items, and any special handling needs. We also consider your preferred timeline and budget.
2. Quotation:

Based on the Consultation, we provide a detailed, no-obligation quote covering all aspects of the move. This includes packing, transportation, unpacking services, and any additional services you may require, such as storage.
3. Scheduling:
We will schedule the move once you approve the quote at your convenience. Our Team ensures timely arrival and swift execution of tasks to avoid disruptions to your schedule.
4. Packing 
Our packing team arrives with all the necessary materials on the scheduled day and carefully packs all your belongings. Special items like delicate antiques, fragile glassware, or valuable art pieces are packed with extra care to ensure their safety during transit.
5. Loading:
 Our experienced crew carefully loads your belongings onto our well-equipped vehicles once everything is packed. Every item is positioned strategically to avoid damage during transportation.
6. Transportation:
 We transport your items to the new location using the most efficient routes. Our drivers are well-versed in safe driving practices, ensuring your belongings reach their destination securely and on time.
7. Unloading & Unpacking:
 Upon arrival, our Team unloads and unpacks your belongings with the same care and attention to detail as when packed. Furniture and large items are placed according to your instructions.
8. Final Check:
After everything has been unpacked and set, our Team does a last check to ensure that everything is in working condition. We leave your new home clean and neat so you can settle in.
9. Feedback & Review:
We always appreciate hearing from our clients. After the move, we invite you to provide feedback so that we can continually improve our services.
Remember, our main goal at Aires Relocations is to make your move as easy, safe, and hassle-free as possible. Your satisfaction is our top priority.
Why Choose Aires Relocations
1. Experience:
 With years of experience in the relocation industry, we've gained extensive knowledge and skills to handle all types of moves – residential, commercial, or specialized. Our experience allows us to predict potential challenges and mitigate them proactively.
2. Customizable Services:
 We understand that every move is unique. Therefore, we offer a range of customizable services that can be tailored to fit your specific moving needs and budget. Whether it's a local move, long-distance relocation, or international transfer, we've got you covered.
3. Professional Team:
 Our Team comprises trained and experienced professionals committed to delivering exceptional service. Everyone is dedicated to ensuring your belongings safe and efficient transport, from our packing crew to our drivers.
4. State-of-the-Art Equipment:
 We use the latest Equipment and high-quality packing materials to ensure your items' utmost care and safety during the move. Our well-maintained trucks and vans are designed to transport your belongings securely.
5. Comprehensive Services:
 We offer a full suite of moving services, from packing and unpacking to storage solutions. This means you only have to deal with one company for all your moving needs, making the process streamlined and hassle-free.
6. Customer Satisfaction:
 At Aires Relocations, we highly value customer satisfaction. We go the extra mile to ensure all your needs are met, and we're always ready to answer any questions or address any concerns.
7. Competitive Pricing:
We provide high-quality services at competitive prices. Our transparent pricing policy means there are no hidden costs or unpleasant surprises.
8. Accredited and Insured:
We are fully licensed and insured, providing peace of mind knowing that your belongings are safe and covered against unforeseen events.
Choosing Aires Relocations means choosing a partner that cares about your move as much as you do. We take the stress out of moving, allowing you to focus on settling into your new home or office.
Frequently Asked Questions
Find Removalists In Popular Australia