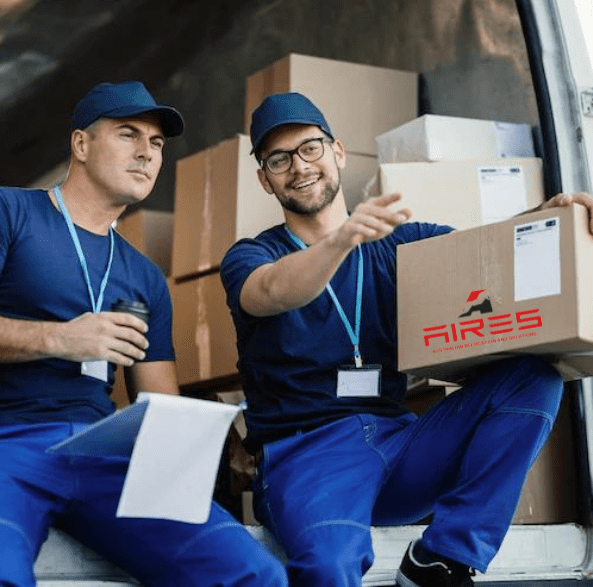 Removalists Point Cook- An Easy Solution To Relocation!
Are you tired of worrying too much about moving your items? Removalists can make the work of relocating easier and faster. In Aires Relocations, you can get the best Removalists in Point Cook. Our services can help customers enjoy easy lifting, unpacking, and moving heavy loads from their original location to a new location. We can be your one-stop solution to relocations. We cater to your commercial and personal moving services. We are the most recommended removal service providers who work with utmost dedication and professionalism.
Furniture Removalists
 At Aires Relocations, we understand the value of your prized furniture pieces. As top-tier furniture removalists, we offer comprehensive solutions to transport your furniture safely. Our specialized equipment and professional staff ensure your furniture is well-protected and delivered without a scratch, providing a service that's second to none.
Office Removalists
Aires Relocations is your trusted partner for smooth office relocations. Our team of office removalists is well-versed in the logistics of moving commercial spaces. We work diligently to minimize downtime and disruption, enabling your business to get back on track quickly. With Aires, you can be assured of an organized, swift, and secure office move.
Men with Trucks
If you're searching for "men with trucks," look no further than Aires Relocations. Our experienced professional movers, armed with state-of-the-art trucks, can handle all your relocation needs, regardless of size or scale. Enjoy the convenience and confidence of hiring our well-trained team to handle your moving tasks.
Men with Vans
Aires Relocations offers reliable "men with vans" service for all your light and medium-sized moving requirements. Whether shifting a small apartment, transporting furniture, or needing help with single-item moves, our team is equipped to provide fast and secure service. Our van service is perfect for inner-city moves or smaller-scale relocations.
Packing Services
Save time and protect your possessions with Aires Relocations' professional packing services. Our trained packers use top-quality materials to wrap, pack, and secure your items, ensuring they reach their destination in perfect condition. From kitchenware to antiques, we handle each item with the utmost care.
Storage Services
At Aires Relocations, we take pride in offering a comprehensive range of storage services tailored to suit your unique requirements. Our storage solutions include: Short-Term Storage services, Long-Term Storage services, Furniture Storage services, Document Storage services, Climate-Controlled Storage etc.
Why Do You Need Us as Removalists Point Cook?
Hiring professional removalists can be less stressful than taking the responsibility of relocating all by you. With our professional removalist services, you can have an easy and comforting time relocating to your new home. We provide professionals with expertise and the skills to efficiently and effectively transfer your packages to your new location without any hassle. The benefits that you can enjoy with our professional services are:
Moving now can become more convenient and less stressful as you do not need to focus entirely on the unfinished moving task. You can completely relax and rely on our services and let our professionals take care of your packing, loading, lifting, unloading, and unpacking packages smoothly. 
Our services can save a lot of your expenses that would have otherwise been spent on buying equipment and packing. Both require a lot of understanding, knowledge, effort, and money to carry forward with the task of moving further. Our professional movers come in handy and can meet your budget requirements.
If you are not an expert, it is likely for you to enjoy yourself while moving from one location to the other. As the most well-known removalists point cook, we ensure to avoid any major issues with relocation. Our movers are highly skilled and experienced and know the right way to move your shipments.
It is very likely to worry about your packages and their safe delivery. However, we can provide the best moving services. So, you can be completely worry-free. Your packages would not only be delivered safely but would also be heavily insured in case of any sudden accidental damages to them.
Be it packing all your belongings, lifting them to a tight holding vehicle, or unloading them to the final location, our moving services are effective and efficient since we use professional equipment and tools.
OUR MOVING PROCESS
1. Initial Consultation
Our process starts with a free, no-obligation consultation. One of our experienced moving consultants will discuss your relocation requirements, understand your unique needs, and answer any questions you may have about our services. This allows us to provide a personalized moving plan that suits you best.
2: Detailed Quote

Based on your requirements and the scope of your move, we'll provide a comprehensive and transparent quote. We believe in full disclosure and no hidden costs so that you can plan your move with Aires Relocations without any surprises.
3: Booking the Move
Once you are comfortable with the quote, we'll book your move according to your preferred schedule. We understand that every move is unique, so we offer flexibility in our scheduling to meet your needs.
4: Professional Packing Services
Our professionally trained packers will treat your belongings with the utmost care. Using high-quality packing materials, we ensure your items, from fragile objects to bulky furniture, are secured for the journey. If you prefer to pack yourself, we can supply the packing materials and advise on best practices.
5: Secure Transportation
Our team of dedicated movers will then load your items onto our state-of-the-art trucks or vans, ensuring they're well-protected for the journey. We handle all items with respect, whether family heirlooms or office equipment.
6: Delivery and Unpacking
Upon arrival at your new location, we'll carefully unload and place your items per your direction. Our team can also help unpack, letting you settle into your new space quicker.
7: Post-move Support
At Aires Relocations, our service continues once your items are unloaded. We're here to assist with any post-move questions or concerns. Your complete satisfaction is our ultimate goal.
Aires Relocations is a trusted name in moving services, known for our professionalism, efficiency, and dedication to customer satisfaction. From the initial consultation to the final stages of unpacking, we are committed to making your move a smooth and hassle-free experience. Choose Aires Relocations for a better move.
Why Choose Aires Relocations
1. Personalized Approach:
 We understand that every move is unique, and so is every customer. We offer personalized moving solutions tailored to your needs and budget.
2. Experienced Team:
Our team of professional movers and packers has years of experience in the relocation industry. Skilled, efficient, and courteous, our staff works diligently to ensure your belongings are handled carefully.
3. Transparent Pricing:
We offer competitive rates with absolutely no hidden charges. Our pricing is transparent and straightforward, so you know exactly what you're paying for.
4. High-Quality Packing Materials:
We use only top-grade packing materials to protect your items during transit. Whether it's delicate glassware, bulky furniture, or precious antiques, we ensure they are packed securely and transported safely.
5. Reliable Transportation:
With our fleet of modern and well-maintained trucks and vans, you can trust us to transport your belongings securely to your new location.
6. Flexible Scheduling:
We understand that our customers have busy lives. That's why we offer flexible scheduling options to suit your timetable.
7. Excellent Customer Service:
At Aires Relocations, we pride ourselves on our commitment to outstanding customer service. From your first phone call to the final unpacking, we ensure your move goes smoothly and stress-free.
8. Post-Move Support:
Our job is still ongoing when the moving truck pulls away. We offer ongoing post-move support to help you settle into your new home and address any concerns.
With Aires Relocations, you're not just hiring a moving service; you're partnering with a trusted ally dedicated to making your move a positive experience. Choose us for your next move and discover the Aires Relocations difference.
Frequently Asked Questions
Find Removalists In Popular Australia